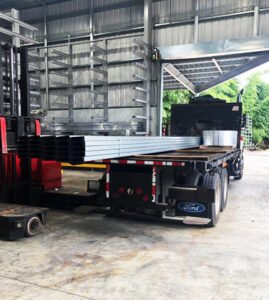 Servimetal is the largest processor, distributor and manufacturer of flat-metal products in the Caribbean Basin. With headquarters located in Caguas, it operates a 120,000-squarefoot state-of-the-art plant, with clients ranging from multinational conglomerates to local smaller industrial enterprises.
To best serve our clients, Servimetal operates three divisions: flat roll, roll forming and flow control. From these three divisions, Servimetal offers a wide range of services and flat-rolled products to original equipment manufacturers (OEMs); roll forming to the construction industry; and flow products to the pharmaceutical, oil & gas, water and food & beverage industries.
MISSION STATEMENT
Our goal is to be a World Class Metal Service Center. To accomplish this objective Servimetal must relentlessly continue to satisfy the needs of our customers, effectively and speedily without sacrificing our quality standards. To reach this goal we must empower the work force, from top to bottom, because they are our greatest asset.
Servimetal was created in 1988 to supply the steel raw   material needs of the local industry and multinational OEM manufacturing companies in Puerto Rico.  From its modest beginning, the company has grown to its present world class facilities. Today, we address the need of a Metal Service Center that specializes in serving the construction industry by   supplying steel   building components of the highest quality manufactured to customer's specifications at very competitive prices.               
Servimetal is the recognized Leader in Flat Rolled metals within the Caribbean Basin area and now has three operational Divisions
Flat Rolled    

Roll Forming

Flow Control

Aluminum 
We offer a wide range of services; Flat Rolled products to OEM's, Roll Forming to the Construction Industry in general, and Flow Control products to the Pharmaceutical, Food & Beverage, Oil & Gas, and Water Industries. Our new Roll Forming Division manufactures Metal Panels and Metal Deck, including but not limited to Types R, E, and B. We also produce structural galvanized Type C and Z sections in a wide variety of profiles for all  designer's needs.
Servimetal enhances its services to its customers through its affiliation to Associations such as Metal Center Institute (MSCI, formerly SSCI)*, Precision Metalforming Association (PMA), Puerto Rico Manufacturer's Association (PRMA), Fabricators & Manufacturer's Association (FMA),  Mechanical Contractors Association (MCA),  International Society of Pharmaceutical Engineering (ISPE), and Puerto Rico Chamber of Commerce.
Servimetal is a Puerto Rico Industrial Development Company (PRIDCO), promoted industry and a certified member of the National Minority Business Enterprise.
Servimetal also has an enviromental, health and safety policy. For more information on the policy please click below.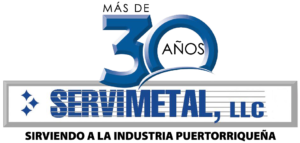 SERVIMETAL IS A PROUD MEMBER OF THE FOLLOWING ORGANIZATIONS: